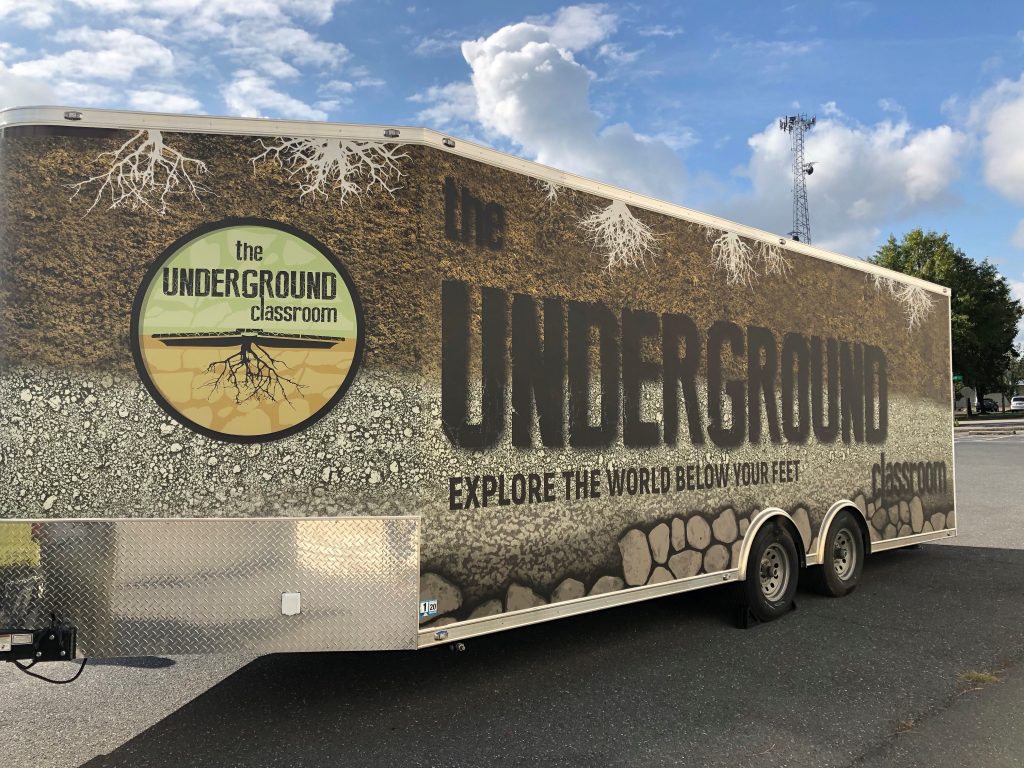 Now taking reservations for the 2024 Tour Season.
The R.E. Lee SWCD's Underground Classroom is a handicap accessible 22-foot cargo trailer that serves as a mobile learning unit bringing soils and conservation education to our local schools and community throughout Amherst, Appomattox, Campbell, Lynchburg City, and surrounding areas
The Underground Classroom will be used to educate youth and adults about soil health and conservation. This experience will serve as a hands-on, learning tool for a variety of lessons available to schools, field days, fairs, festivals, and beyond.  The Underground Classroom allows visitors to walk through a three-dimensional virtual experience of the underground world beneath them.  Through activities and investigations that correlate to the Virginia Standards of Learning, students will learn the important role soil health provides to crops and water quality. 
The goal of the Underground Classroom is for youth and adults to come away with the knowledge that soil is more than just dirt; soil conservation is vital for the health of our ecosystems and watersheds.  Included with the mobile classroom, are the option for additional Learning Stations that can be set up to expand on the curriculum covered in the Underground Classroom by providing hands-on investigations and demonstrations. A list of all additional lesson plans is provided below.
Interested in having the Underground Classroom visit your school, or come to your local fair or festival? Want more information?  Fill out the application form below and return/contact Katelin Savage, Education & Outreach Coordinator.
Katelin Savage, Education & Outreach Coordinator
Phone: (434) 352-2819
Email: k.savage@releeconservation.com
Note: Public and Private school districts, as well as homeschool groups within the Robert E. Lee Soil and Water Conservation District, are exempt from all rental and service fees.